Home / Face / Facelift
FACELIFT
A successful facelift should restore the
natural, youthful appearance of a patient without appearing stretched or pulled.
View Our Before And After Gallery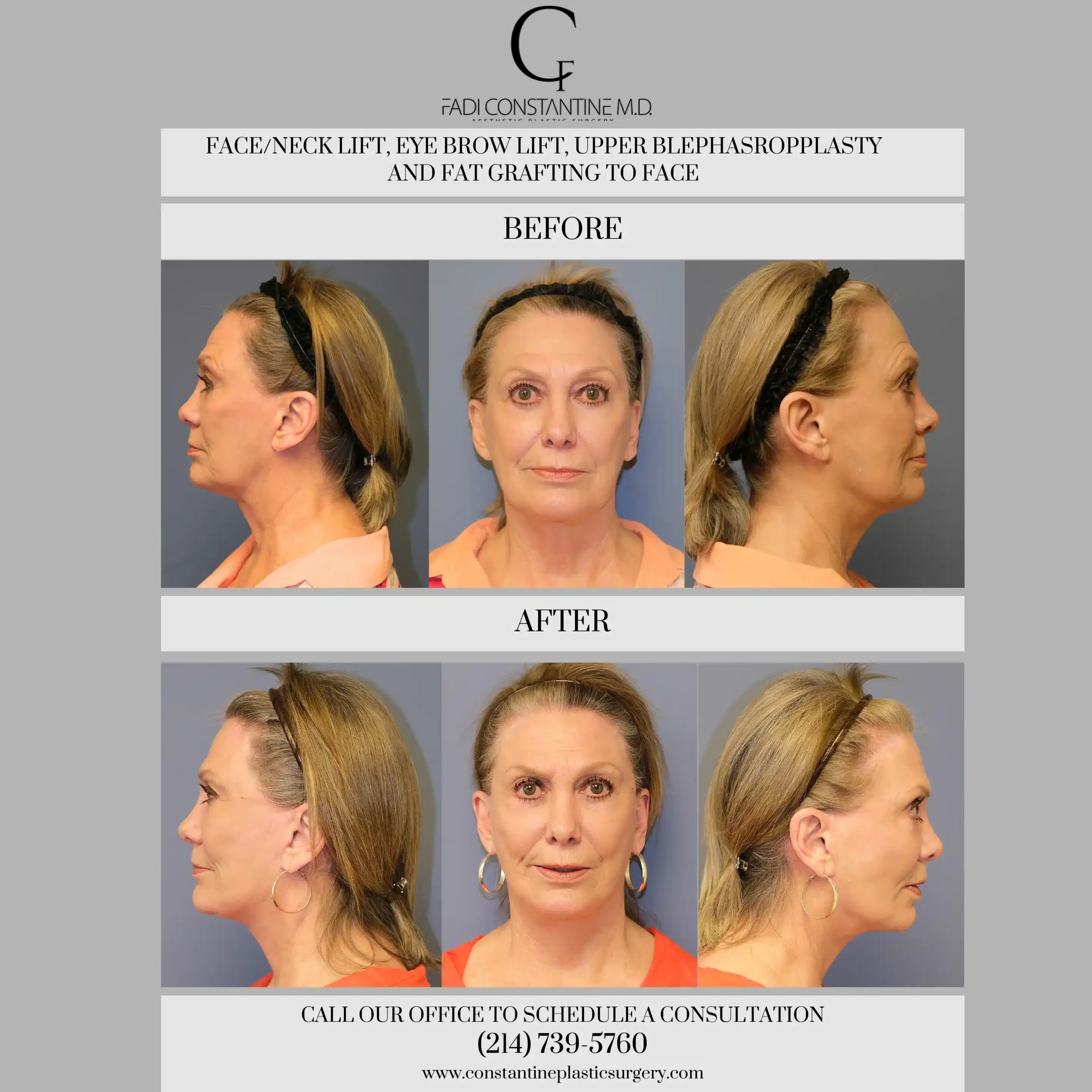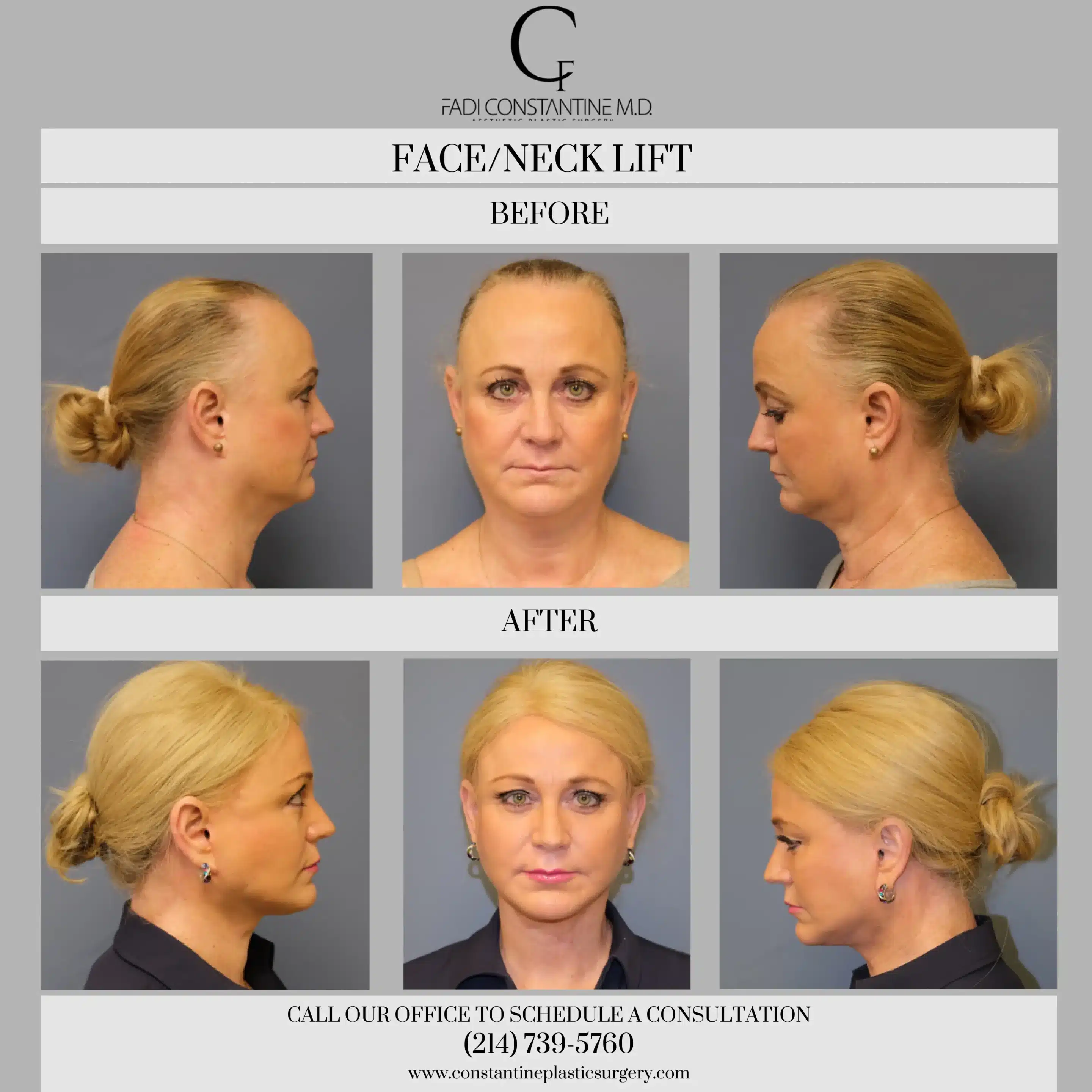 OVERVIEW
As people get older, they often become self-conscious about the appearance of their face. Over time, gravity can negatively affect the appearance of the face and cause key features such as the brow, the eyes, cheeks and jowls to sag. The aging face also undergoes a deflation process whereby fat pads within the face loose volume, sag, and ultimately give the aged appearance. A facelift can help to restore a more youthful appearance and increase confidence greatly.
A successful facelift should restore the natural, youthful appearance of a patient without appearing stretched or pulled. This is achieved by addressing the underlying facial structure rather than relying on the skin to offer support. By working on the facial structure, know as the SMAS layer, we are able to achieve results that are not only more natural looking but also longer lasting. Many times, the facelift is combined with fat grafting to restore deflated areas of the face. Fat grafting and face-lifting work synergistically to give the most natural and long-lasting result that neither can achieve when used alone.
MY APPROACH TO FACELIFTS IS TO TREAT EVERY
PATIENT AS AN INDIVIDUAL.
My approach to facelifts is to treat every patient as an individual. Everyone has different things they want to want to achieve with their procedure, which is why I sit down with every patient and find out exactly what their desires are and then see if this lines up with my unique aesthetic approach to facelifts. I find this yields the best results and also ensures that patients are happy that their desired outcome will be achieved.
ACHIEVING THE BEST RESULTS
Aesthetic surgery is a constantly evolving science and because of this techniques are being improved all the time. The modern approach to facelifts is to put an emphasis on volume restoration and facial recontouring. The idea is to avoid focusing too narrowly on tissue mobilization and elevation and instead to strive for smooth contours and highlights. This approach allows for much more aesthetically pleasing results that are both natural in appearance and long lasting.
If you are considering having a facelift, then you'll almost certainly have questions that you would like to have answered before you commit. Everyone has different desires and concerns when it comes to cosmetic surgery. Dr Constantine recognizes this fact, which is why he takes the time to sit down with every patient and discuss in detail, exactly what the procedure will entail and also answer any questions you have.
After years of overthinking it, I finally made the decision to get a breast reduction. I am so glad I chose Dr. Constantine to do my procedure. He is awesome!... Read More His bedside manner is calming and reassuring. His staff is great! I appreciate their patience with me and always making me feel like a priority! He did an amazing job and I could not be happier with the results!

April Clark


May 15, 2023

Dr. Constantine and his team are amazing! From consultation to post op appointments, enjoyed every step of the process and am very happy with my surgery results. Only regret is... Read More not doing it sooner!

Barrett Wolff


February 15, 2023

Dr. Constantine is fantastic! I highly recommend him based on his work and excellent communication.

Kathleen McAdams


February 15, 2023

When I found out I had breast cancer I was so scared but Dr Constantine quickly put me at ease. Had a double mastectomy. Then a diep flap reconstruction and... Read More it was a success. I am so happy with my results. I even Abe some feeling in my breast again!

Elizabeth Hunt


February 15, 2023

I was diagnosed with breast cancer in 2021 and Dr. Constantine did my breast reconstruction and I also had lipo on my ankles/lower calf and knees after my treatment. I... Read More love the outcome. It is amazing the confidence that I gained after having to deal with the cancer and treatments and the loss of my natural breasts. His office is very supportive and responsive. His bedside manner is always empathetic and never dismissive. I feel fortunate that I was recommended to him.

DESIREE ILO


January 15, 2023

I had the best experience. From the front desk to scheduling coordinator. All are are welcoming and professional. Dr.Constantine was easy to speak with and explained everything in great detail.... Read More My results are better than I was hoping for. Extremely happy and would recommend to anyone considering liposuction on stomach. It was a problem area for me even though I not overweight. Five stars all around.

ashley lusk


December 15, 2022

Wonderful professional service! The staff is always friendly and helpful. Dr. C. Did a great job on me. I am very happy with my results!

SHERE C


December 15, 2022

Dr. Constantine is personable, explains procedures in detail, and has a wonderful bedside manner. His professional and skill is above reproach. He is honest about the results,... Read More how you will look and what to expect - basically what he can do. His skill is amazing. I was three hours away and his office staff worked diligently to coordinate with my mastectomy surgeon for the best possible outcome. He put me at ease which was no easy task. His medical assistance really ensured I understood everything about the procedure. I would highly recommend this office for any plastic surgery needs. He was really gentle with my cancer diagnoses and subsequent procedures. Well worth traveling for his expertise.

Natalie Henderson


November 15, 2022

Dr Constantine took his time with us & thoroughly explained everything. He is very kind and professional.

Paula&Will Mahand


October 15, 2022

I had a great experience with Dr Constantine and his office. As others say, he put me at ease about the double mastectomy I had to have due to breast... Read More cancer. The results from my final reconstruction surgery look great and I'm thankful for his talented work. Their office staff is also really great. Very organized, so I never waited for appointments. Always in and out swiftly. And, their scheduling team went above and beyond, when I had to reschedule my surgery multiple times due to covid and work. Plus, my insurance changed multiple times, as well, so I appreciate their guidance there, too. I wholeheartedly recommend Dr Constantine - and his lovely office & wonderful team!

Joey Cade


October 15, 2022

From my first phone call to my follow up appointments Dr. Constantine and his team were just outstanding. Wish I could give more Stars. He answered every single question, took... Read More his time to go over the procedure and made sure I understood everything. When I saw the results I was so happy, and even more impressed with his work. All of my scars are healing perfectly, i was never in pain or had any complications. I've done some research on other Dr. prior to picking him, and going to him was the best decision. He is a perfectionist in his work and not one time I was feeling uncomfortable talking with him or his team about my procedure. He is defiantly the right Dr. to go to. If I ever need anything again I will be back.

Ramona Moon


September 15, 2022

So thankful for this practice! I have received wonderful care and have had wonderful results. Dr. Constantine is a kind person and exceptional doctor. He is an amazing surgeon. I... Read More didn't know what to expect when I was diagnosed with breast cancer and my results at each phase of this journey with him have been incredible. He has restored what I lost and I am so happy and grateful and thankful for him. Very happy and highly recommend!

Alexandra Bogan


September 15, 2022

Dr. Constatine is awesome!!! I was so nervous to have a double mastectomy, but he was able to calm my nerves, walk me through the process of expanders and now... Read More reconstruction with implants. He does amazing work, has a wonderful bedside manner and just all around great experience. I highly recommend Dr. Fadi Constantine to anyone.

jrp31378


September 15, 2022

Dr. Constantine did everything right to make this journey have meaning for me and my family because I'd do it all over again knowing he and his office staff would... Read More be a part of the process …… thank you for building me better.

Pamela Jones


August 15, 2022

Dr. Constantine and Elizabeth have been amazing throughout my breast reconstruction journey! I've felt comfortable and confident with choosing Dr. Constantine and his team to address a surgery I never... Read More imagined I would have. Thank you guys for giving me my confidence back!

Erin Marino


August 15, 2022

Had the best experience getting a rhinoplasty with Dr. Fadi Constantine, results were exactly as promised and exactly what I wanted. He made my nose look natural and matched it... Read More to my face, and fixed my deviation. Also had the sweetest staff and very professional!!!

Dana Basatneh


July 15, 2022

I would recommend Dr. Constantine to anyone needing plastic surgery, regardless of the reason. Dr. Constantine's bedside manner and artistic skills are his greatest assets. His staff goes above and... Read More beyond for their patients. I have never felt like just another patient. Being diagnosed with breast cancer, I was clueless and felt lost, not knowing my options. After my first consultation, I walked away feeling relieved, well informed of my options, and prepared for what was to come. The procedure I chose to have was DIEP Flap, last surgery was 06/27/22. As for my results, they are AMAZING, exceeding my expectations. ~ Christian Brown

Mrs. Stephen Anthony Brown


July 15, 2022

I had such an amazing experience here. The staff were incredibly helpful and always there to help with any questions I had before and after my surgery. Dr. Constantine was... Read More very nice and made me feel super comfortable. He reassured me with all the questions and concerns I had and was thorough in explaining everything to me. I would highly recommend anyone to come here because I had the best experience I could've asked for!

Kennedy Huff


July 15, 2022
Quick Facts About Facelift
HOW LONG DOES THIS PROCEDURE TAKE?
2-12 hours depending on the type of reconstruction.
WHAT ANESTHESIA DO YOU USE?
General anesthetic
WHAT ARE THE SIDE EFFECTS OF THIS?
Temporary swelling, bruising, asymmetries. Many factors depending on type of reconstruction and radiation.
HOW MUCH RECOVERY TIME?
Back to work in 1-2 week more strenuous activity in 3-4 weeks
WHEN CAN I SEE MY FINAL APPEARANCE?
Depends on type of reconstruction.
HOW LONG DO RESULTS LAST?
Permanent although factors such as lifestyle and weight gain must be taken into account.
Dr. Fadi Constantine
Trained at some of the most rigorous
programs in the country, Dr. Constantine loves to perform the most delicate and demanding plastic surgery procedures. Our team is known for natural results without an "operated" look.